Current health concerns have created a renewed focus on life within the home. 42% of the workforce now works from home on a full-time basis, and many students are adapting to virtual school. As a result, people are seeking ways to redesign their workspaces to encourage productivity and communicate personal creativity.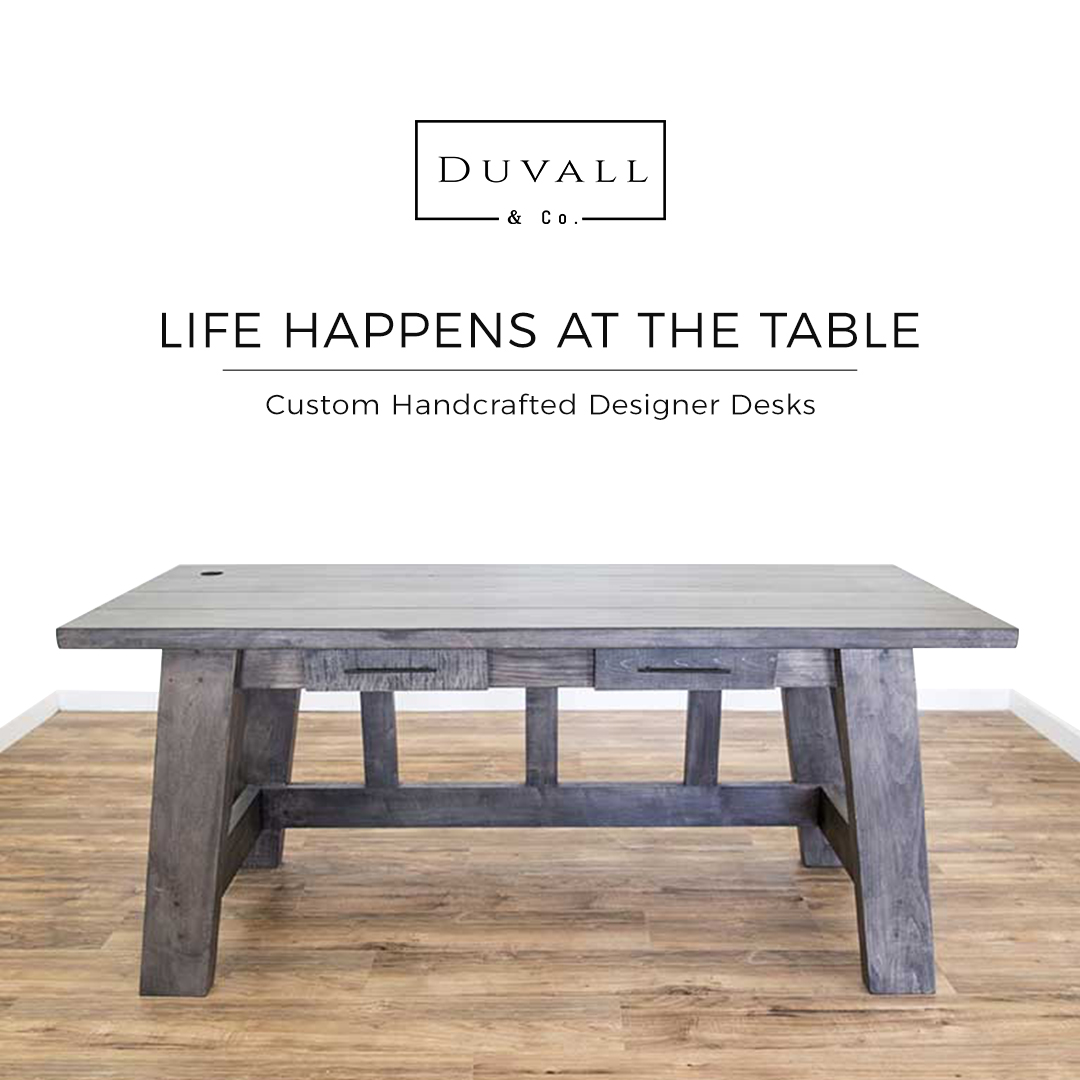 Those who work from home are realizing that they are now able to customize and enliven their home office space in ways they could not customize their cold, sterile cubicle. Employees are liberated from the uniformity of the traditional office space. They are free to express their individuality and explore home office options that fit both their job requirements and their aesthetic tastes.
One of the most central features of any home office is the desk. When choosing a desk, people want to make sure they choose a desk design that they will love and that will make the time spent at the desk more enjoyable.
The temptation can often be to visit a big box store and select from the limited options that are in stock or that can be ordered from the manufacturer. However, a store-bought desk, like many examples of modern wood furniture, is generally made of engineered wood and barely resembles the beauty and majesty of the tree that was used in its making. If people are searching for a desk that is unique and visually interesting, they will be left unsatisfied by the limited offerings of big box stores.
The team at Duvall & Co., a Wake Forest custom furniture maker, understands the desire to create a truly customized workspace. The family-owned business has crafted all types of custom desks, as well as tables and other hardwood furniture, for clients who want furniture that transcends the assembly-line products that many homeowners settle for. Each piece of furniture is custom-built to order, allowing for unlimited modifications. Particle-board, MDF, and veneer are materials that the team never uses; instead, pieces are shaped from the finest solid hardwoods and finished by hand with the best commercial finishes.
Duvall & Co. creates many desk designs from gorgeous natural hardwoods. One of the most unique desks that the artisans build is the live edge desk. The live edge desk from Duvall & Co. is a beautiful custom product that is perfect for people who want their workspace to be a work of art.
Live edge furniture elegantly captures the natural beauty of the wood by preserving the organic shapes of the tree. An HGTV article highlighted live edge furniture, stating, "Live-edge pieces bring a uniquely organic element into any space, showcasing the wood's natural edge, grain and intrinsic characteristics."
Rather than removing the burrs and knots of the wood used for a live edge desk, the artisan highlights the rugged qualities of the tree. The elegance of nature is preserved, allowing the owner of the desk to appreciate the grandeur of real wood.
A live edge desk brings the outdoors indoors, transporting the individual from a busy workday to the quiet peacefulness of a woodland setting. Interior design blog D for Design writes, "Organic shapes are naturally inviting and they seem to wrap us in a warm hug. And using them in interiors comes with interesting benefits… Numerous studies have found that exposure to the variety of shapes, forms and sounds in nature is beneficial to our health – which is what initiated the development of biophilic design. Speaking of shapes in particular, it has been proven that humans have a natural preference for organic shapes, which help to reduce stress and enhance concentration."
Working in a space that fosters creativity may be especially important for people in creative careers. Graphic designers, artists, writers, musicians, and other creatives may find inspiration from the eye-catching, complex loveliness of a live edge desk.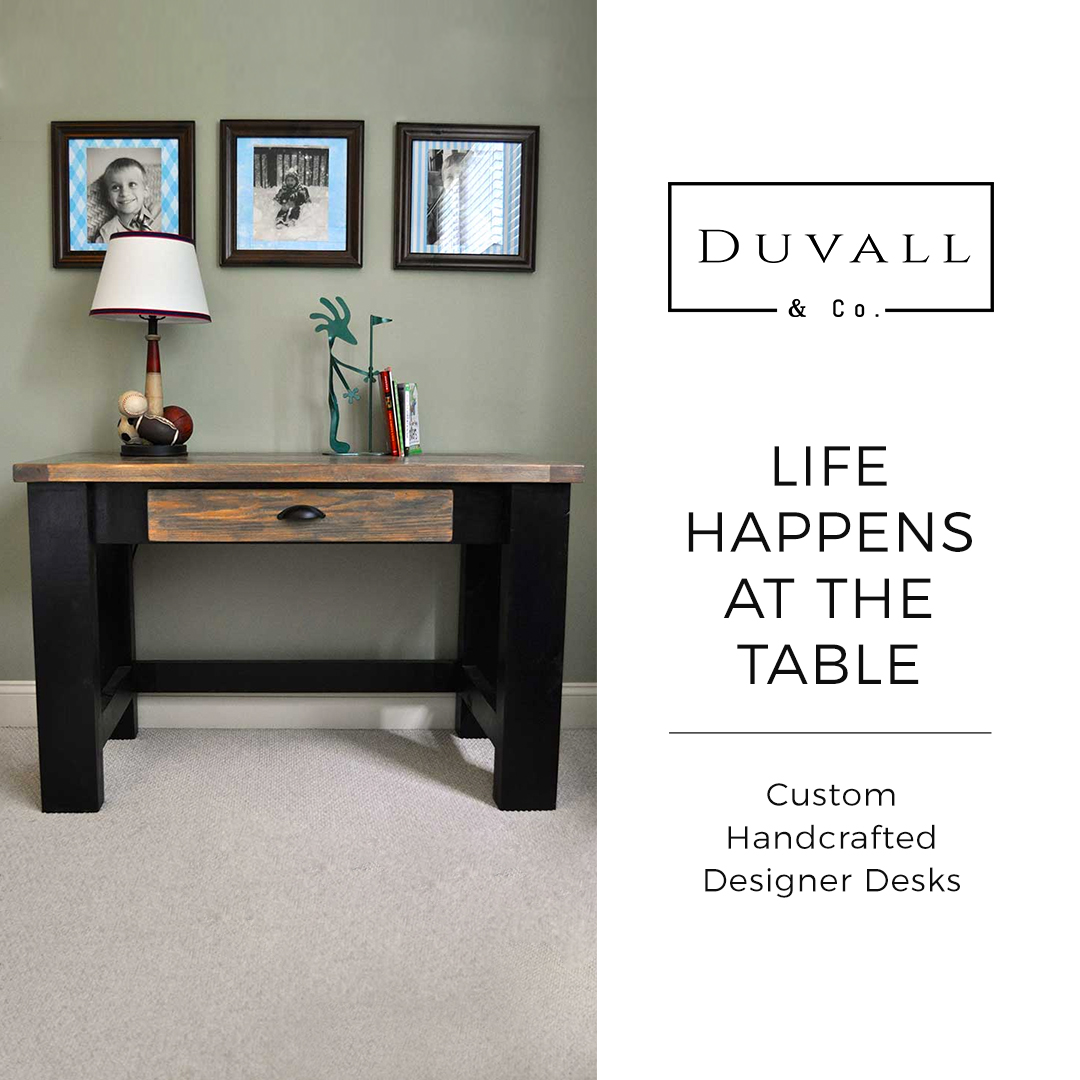 Like all furniture from Duvall & Co., live edge desks are durable, heirloom-quality pieces that will last for generations. Clients are involved at every step in the design process, and they can be confident that the final product will satisfy all their preferences and desires.
To learn more about designing a custom hardwood desk, table, bench, door, or another furniture piece, contact the Duvall & Co. Design Studio by phone at 919-819-8377 or by email at [email protected]