High Point, NC has a rich history as a leader in the furniture industry dating back to the late 1800s. The town set itself apart as a hub for the design and manufacture of fine furniture. Nicknamed "The Silicon Valley of Furniture" and "The Furniture Capital of the World," High Point is home to the High Point Furniture Market, the largest semiannual home furnishings industry trade show in the world. Twice a year, 75,000 vendors and visitors from 100 countries come to "market," as it is known by many. More than 2,000 exhibitors show their products at this global meeting of furniture professionals. It is only fitting that Duvall & Co., a North Carolina custom furniture maker, should name their most popular table after this great city.
David Duvall, CEO of Duvall & Co., himself a gifted furniture designer and craftsman, explains the origin of the High Point Trestle Table: "Over the last year, the High Point has become our most popular table. We originally designed the table as a custom piece for a customer, but we loved it so much we added it to our permanent build-list, and sales for this design took off from there."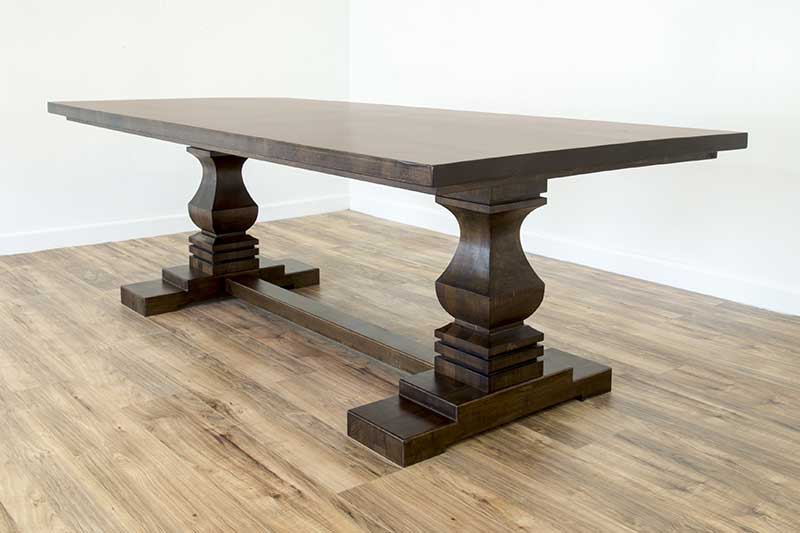 Here are several reasons why the High Point Trestle Table is a superior choice for any home or office.
Versatility Within Any Décor
Duvall describes the versatility of their signature piece, saying, "The one-of-a-kind design lends itself to both formal dining spaces and more casual spaces alike. With the same quality of materials and attention to detail as our other models, but with its unique design, its versatility is unlike any other. Its organic lines and curves are hand-cut and assembled using the highest quality joinery."
Strong and Stable Construction
The trestle table design is strong and stable and can double as a dining table and as a workspace. Constructed of fine, hand-selected hardwoods, each table is finished by hand with eco-friendly, water-based sealers that enhance the natural beauty of the wood's grain and color variations. The High Point can withstand the rugged pounding when life happens at the table. Dents, scratches, or gouges can be repaired, or they can remain as markers of significant milestones in the life of the table and the family that used it.
Functional Efficiency
The trestle design improves the seating capacity of the table. Tables with four legs often restrict the number of people that can comfortably sit at the table. The trestles are tucked under the table and out of the way of chairs. The efficient design of the High Point fosters an intimate and conversational environment.
Heirloom Quality and Craftsmanship
The High Point Trestle Table combines Old World craftsmanship and functionality with the best in modern innovative design and construction technology. Customers will find that their table endures the test of time and eclipses short-lived style trends. The High Point is built to last and can be passed on for generations. The greatest challenge customers of Duvall & Co. may face is determining who will inherit the cherished custom heirloom.
Unlimited Options
Tables range in size from 72" to 120" to fit any space. Wood choices include rich hardwood maple and a magnificent black walnut. Customers can select from a wide variety of stains to match their tastes and décor. American Walnut, Bourbon, Dark Walnut, Driftwood, Early American, English Chestnut, and Natural are available.
The trestle design of the table pairs well with custom High Point benches. Tables and benches are available in reclaimed or wood species other than maple and black walnut.  Contact Duvall & Co. by phone at (919) 819-8377 for more information about pricing, alternate wood selections, and custom furniture design requests.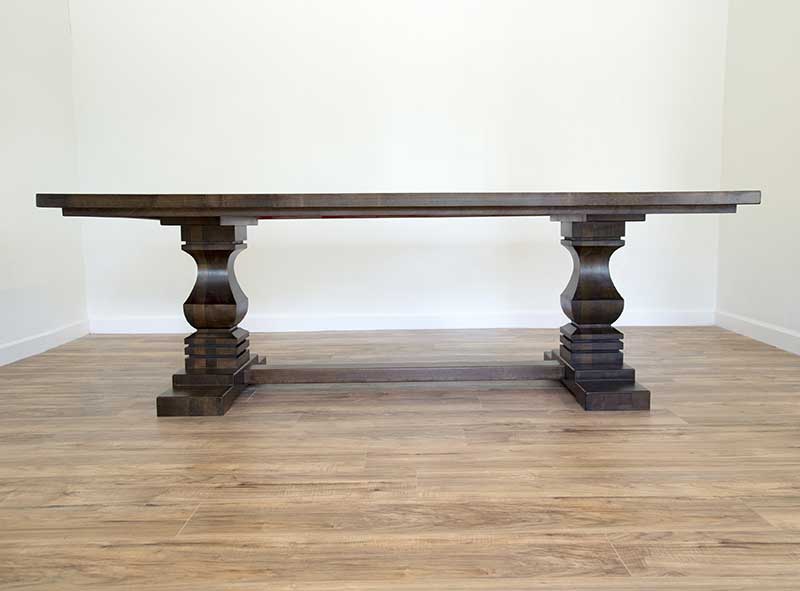 Conclusion
In the High Point Trestle Table, authentic Old World craftsmanship, the finest hand-selected hardwoods, and traditional and innovative design combine to create a table where life, family, work, and inspiration can happen.