Natural wood has always been a desirable material for crafting durable, beautiful furniture. Over the years, families have passed down their hardwood furniture so that future generations can enjoy a piece that is rich with history and memories.
However, technology has popularized the use of engineered wood, especially medium-density fiberboard or MDF. Many in the furniture industry have embraced MDF for tables, doors, shelving, and other applications. Much modern furniture consists of a thin layer of real wood glued to the visible sides and edges of MDF.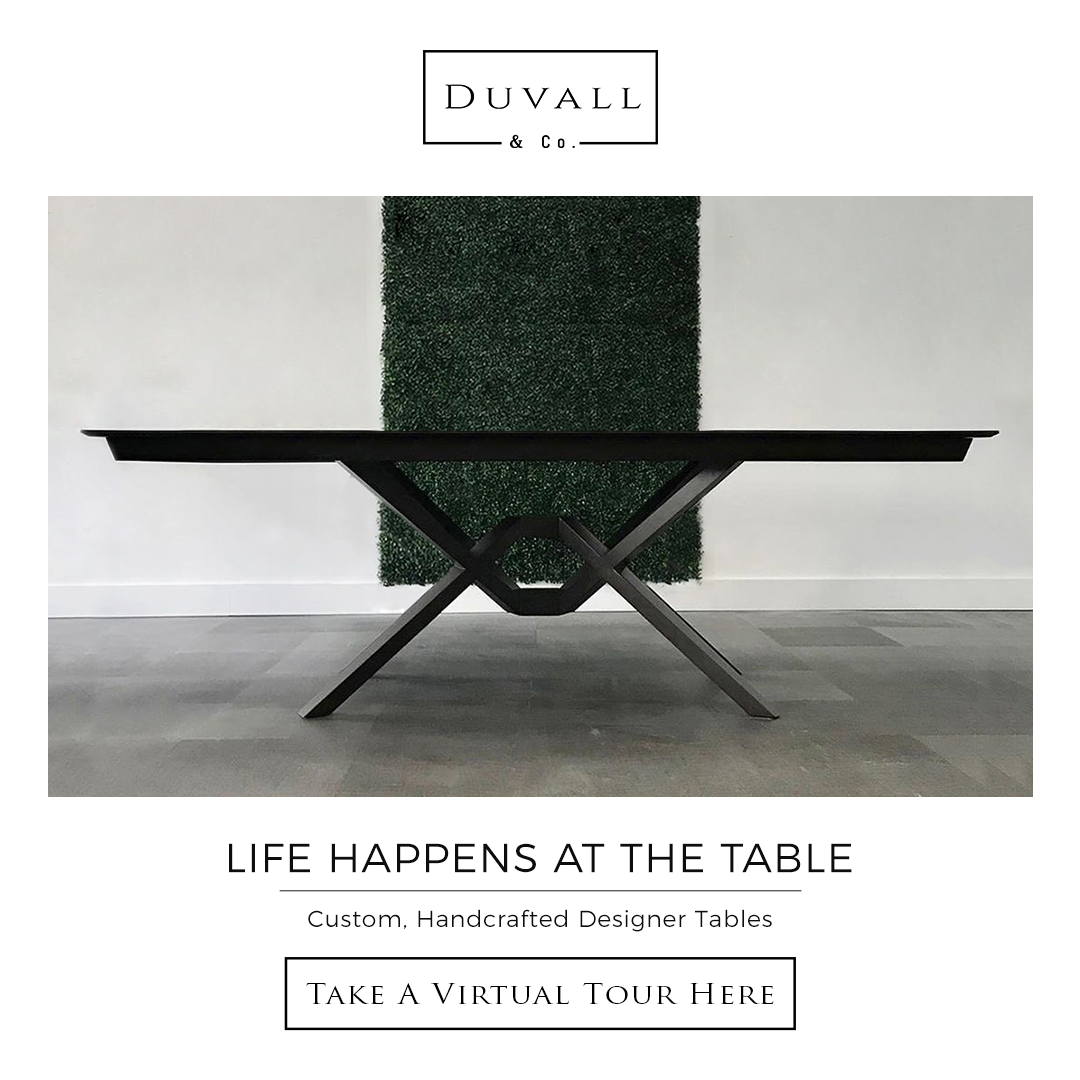 Families searching for the perfect dining table might be tempted to purchase an MDF piece. They may reason that MDF is less expensive than hardwood, and the table would just be damaged by energetic children and the wear of life. Why invest in a hardwood table?
To answer this question, it is important to understand what engineered wood is and how it differs from natural hardwood. Engineered wood, also known as man-made wood or manufactured board, is made by binding or fixing the particles, fibers, or parts of wood together with glues or resins to form composite material.
People may not realize that the glue and resin used to make MDF generally contain urea-formaldehyde, which emits gasses that can cause allergy-like reactions such as watery eyes, a burning sensation in the nose, throat, and eyes, coughing and wheezing, nausea, and skin irritation.
Wellness architect Pippa Lee, who is an advocate for healthy indoor environments, advises homeowners to avoid MDF products. "Put simply, there is no good way to have urea-formaldehyde in your life."
From a structural perspective, MDF furniture can be easily damaged or scratched and does not repair well. Since MDF lacks grain and texture, its aesthetic qualities are only as rich and true as the thin piece of veneer with which it is covered. Further, water and MDF do not mix. If the furniture is made of low-grade MDF and if it has not been sealed, it will not withstand water saturation or a humid environment.
The Solid Advantage: Natural Hardwoods
MDF has its place in the furniture market, but MDF pieces should not be confused for heirloom-quality furniture. If a family is searching for longevity, value, and legacy, they will find these qualities in natural hardwoods.
Strength and Durability
Natural hardwood is impressively strong and sturdy. A table, door, or desk constructed of engineered wood such as MDF may last for decades, but solid wood furniture has been demonstrated to last for centuries. Longevity enables generations of children and grandchildren to enjoy the same table that their grandparents and great-grandparents made memories at.
Aesthetics
Natural hardwood is unparalleled in beauty. Each piece of furniture displays a grain, curling, and texture that make it as unique as the family who owns it. The artificial patterns of MDF can only mimic the true beauty of real wood. If aesthetics and style are a priority, natural hardwood will exceed expectations.
Customization
Solid wood furniture can be customized in many ways, including shape, finish, and color. Engineered wood reflects the uniformity of mass-produced furniture and simply does not offer the level of precise customization that a custom furniture maker provides. Scale and proportion are foundational to interior design. While MDF furniture is rigid in its size constraints, hardwood furniture can be crafted exactly according to the client's desires and the space available in his or her home.
Variety
The types, styles, colors, grains, texture, durability, and cost of wood varies widely, affording reasonable options for every taste, function, and price point.
Value
Furniture made from solid hardwood possesses a greater real and intrinsic value than furniture made from MDF. Even though it is composite wood and is less durable than hardwood, MDF can be expensive.
Value is more than money, and tables are more than just a piece of furniture. From birthday celebrations to weighty talks, special memories are created at the dining room table. Every dent or scratch on a hardwood table is not an imperfection but a tribute to a busy, fulfilling life. The motto at Duvall & Co is, "Life happens at the table." The question families must ask themselves is do they want their life to take place at a table that is just sawdust, wood chips, and glue? Or, do they want a table that is worthy of the memories their family will create?
For more information about custom handcrafted furniture in Wake Forest, NC, visit the Duvall & Co website at duvallco.com. Contact the Design Studio by phone at (919) 819-8377 or by email at [email protected]